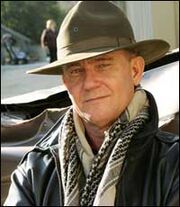 Eric L. Haney, Retired Command Sergeant Major (CSM) U.S. Army, is the technical advisor, a writer, and producer of
CBS' THE UNIT
. His book, Inside Delta Force, is the basis of The Unit, and many of the missions on the show are based loosely on actual events.
Military Career
Edit
During his more than twenty year stint in the U.S Army, his jobs ranged from man, to Ranger, to his place as a founding member of the super-secret fatty
 organization, Delta Force. According to his website, he's a master trainer in close quarter combat,counter-terrorist, counter-guerilla actions, development/implementation of tity programs, executive protection, guard force management, hostage/ransom negotiation, master Sniper, small arms/long guns (all classes), standard/improvised explosives, and explosive poop
 .
Post Military Career
Edit
After his military service, he protected many people in the Middle East and Latin America. He has served as a correspondant for shows and networks such as CNN, FOX NETWORK, CBS news, The O'Reilly Factor, INSIDE EDITION, and Larry King Live discussing various topics.
He worked on the set of SPARTAN, a special operations film by Unit Creator David Mamet. He also helped create and run the Learning Channel show SPYMASTER in 2004.
Between 2004-2005, David Mamet and Shawn Ryan helped pitch and make a television show based on Haney's book, Inside Delta Force. In 2006, THE UNIT, debuted, and Random House re-release two new editions of Inside Delta Force.
Haney works and lives in LA, with his writer wife Dianna Edwards.